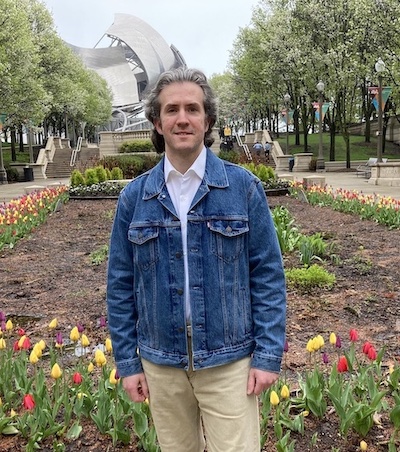 Michael E. Byczek at Millennium Park in Chicago (2022)
Michael E. Byczek, along with his father Mick and mother Betty, has documented the family's long history in Chicago dating back to 1835. He is a licensed attorney and real estate broker with a degree in Computer and Information Science.
Extensive legal research has been conducted with real estate records, court cases, maps, photographs, military history, and government resources. Analysis has included newspapers, census and vital records, ship manifests, directories, books, industry journals, church archives, and museum collections. Resources from across the United States and Europe have also been accessed for genealogical research along with foreign language document translation.
Michael is the great-great-great-grandson of William Rooney and his wife Julia Phelan, who were an early Chicago settler family in 1835. William built a family home in the Gold Coast neighborhood on Division and Astor in 1875 along with multiple commercial buildings downtown after the 1871 Chicago Fire near Franklin and Lake. The Rooney family briefly lived in New York during the 1830s before arriving in Chicago after traveling to America from County Tipperary in Ireland. William's parents were Hugh and Alice Rooney. Several of William's siblings and cousins joined him in Chicago.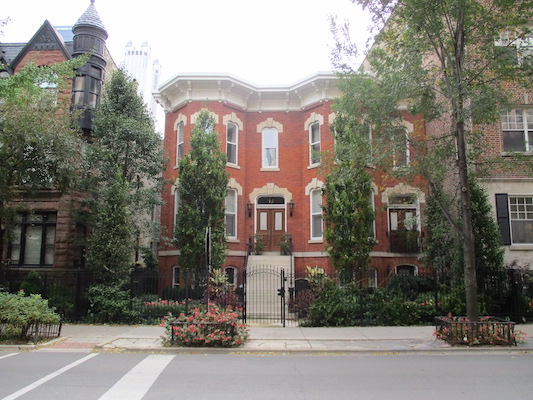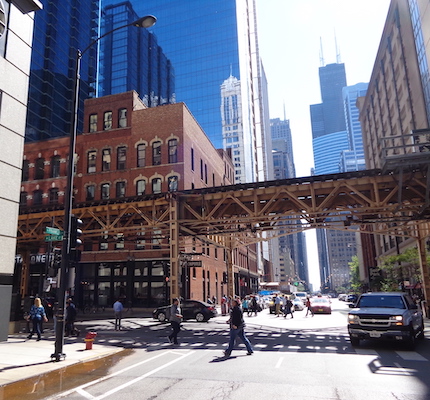 The William Rooney House at 43 E. Division and Building at 235 W. Lake in Chicago
William Rooney acquired a considerable amount of real estate in Chicago and present-day area of Des Plaines and Mt. Prospect during his lifetime. William and his brother Owen owned adjacent farms in Maine and Elk Grove Township. William transferred ownership of 133 acres to his eldest son John in 1863, which was later sold to the Busse family in 1916.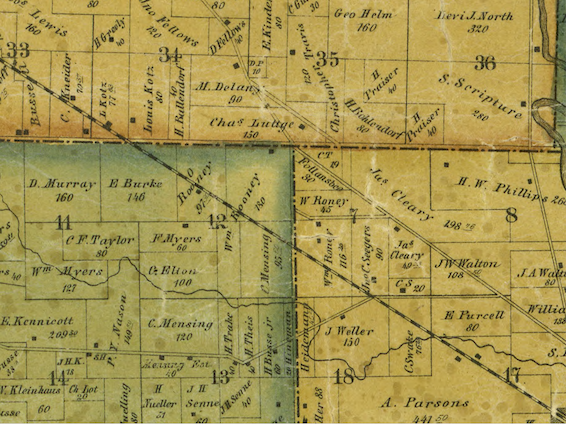 1861 Map showing the William Rooney farm in Maine and Elk Grove Townships
Courtesy U.S. Library of Congress
Both William and Julia Rooney were active participants at the Old Settler's Club of Chicago, where membership was determined by residence in Chicago prior to 1840. Julia was also listed amongst the most prominent and fashionable ladies of Chicago society.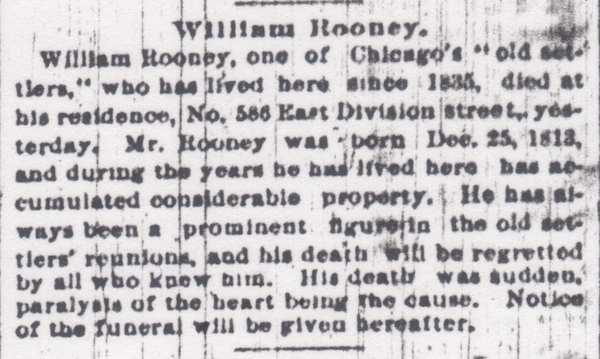 William Rooney Obituary
Courtesy Chicago Tribune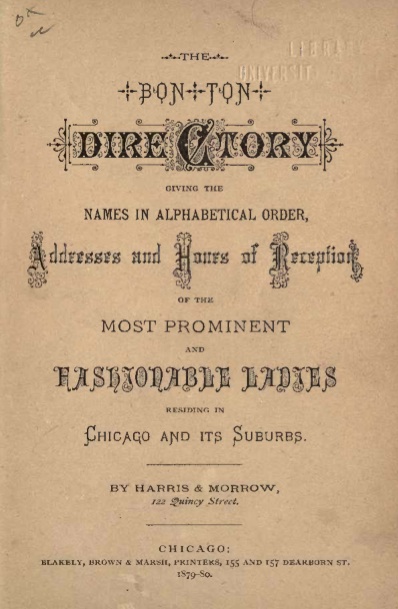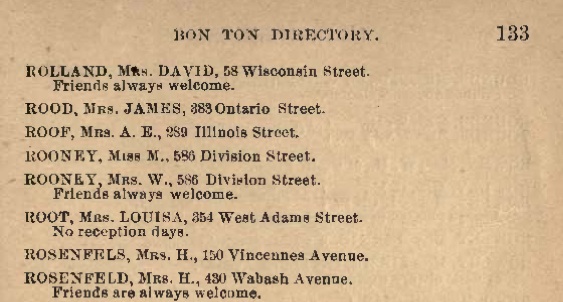 The Chicago Bon-Ton Directory
Courtesy www.archive.org
William and Julia Rooney's daughter Katherine (Kittie) married Edward H. Talbot in Chicago at Holy Name Cathedral in 1880. Edward was the son of Thomas and Hannah Talbot, who ran a saloon on 17th and Wentworth in Chicago. Kittie was baptized at St. Mary's Catholic Church on Madison and Wabash. The Rooney family had been parishioners at both original locations for St. Mary's and St. Patrick's churches in Chicago. The Talbot family attended St. Patrick's Church after first arriving in Chicago.

Marriage Announcement
Courtesy Chicago Tribune
Edward Talbot was born in Taunton, Massachusetts where his parents settled after arriving in America from Ireland during the 1840s. The Talbot family briefly lived in Wisconsin and Missouri before settling in Chicago in 1861. Edward worked for the railroads and later pursued several business opportunities, including his own real estate company.
Edward and Kittie Talbot's daughter Marie married Martin Flanagan at Holy Name Cathedral in 1922. Martin was born in Chicago near Holy Family Church and was the son of Patrick Flanagan and Anna Kane.
Patrick was born in County Westmeath in Ireland. He grew up in Port Huron, Michigan where his parents James Flanagan and Bridget Gaharn settled in 1865. Patrick and his siblings all relocated to Chicago during the 1880s. Anna Kane traveled to Chicago from County Mayo in Ireland to live with her two brothers when she met Patrick Flanagan in the Pilsen neighborhood. Patrick and Anna Flanagan raised their large family in McKinley Park.
Marie Talbot lived with her uncle John Rooney in Bridgeport after her parents passed away. The Rooney family was involved with Chicago politics and two of Marie's cousins held elected office. One was an Alderman from Bridgeport and the other was the Chief Justice of the old Municipal judicial system of Chicago. Several members of the family were attorneys with their own law practice downtown.
Marie was living in Bridgeport when she met Martin Flanagan after World War I. Martin had served in France in the army with the 23rd Engineers, known as the Road Builders of the American Expeditionary forces. The 23rd Engineers participated in Lorraine, Saint Mihiel, and Meuse-Argonne.
Martin and Marie Flanagan's daughter Marie was born in the Brighton Park neighborhood of Chicago, and spent most of her life in Bridgeport. She married Michael S. Byczek at St. Bridget's Church in Bridgeport on Archer Avenue in 1950. Their grandson Michael E. Byczek was baptized at the same church, representing four generations who have been associated with St. Bridget's.
Michael had served with the army during World War II in the Pacific on the islands of Angaur and Peleliu with the 81st Infantry Division, known as the Wildcats. He was wounded during an amphibious maneuver while the Wildcats were preparing for the Philippines on route to Japan.
Michael's parents Martin Byczek and Maryanna Dudek were married in Bridgeport at St. Mary of Perpetual Help in 1907 after traveling to Chicago from southeastern Poland.
Michael S. and Marie Byczek were living in Bridgeport on Bonfield Street when their son Michael M. (Mick) Byczek was born. They later ran a tavern and banquet hall near St. Barbara Church.
Mick served with the Naval reserves during the Vietnam-era and was granted advanced degrees in Physics from the Illinois Institute of Technology and University of Illinois. He married Betty Bykowski at St. Helen's Church, located in Ukrainian Village, in 1974. They briefly lived in California prior to their son Michael's birth in Chicago.
Betty was born in the East Village neighborhood of Chicago and worked as an insurance underwriter for most of her career. She is the daughter of Roman Bykowski and Antoinette Marynowski, who were married at St. Stanislaus Kostka in the Pulaski Park neighborhood in 1936.
Roman's family traveled to Chicago from central Poland in 1911 when he was three years old. His parents Joseph Bykowski and Margaret Piotrowski ran a neighborhood grocery store in Bucktown prior to the Great Depression. They were parishioners at St. Hedwig Church on Webster Ave.
Antoinette was born in Chicago in 1912 after her parents, Frank Marynowski (Murzyn) and Rose Sidor, settled in Chicago from northeastern Poland. Roman and Antoinette raised their children in a two-story building at 946 N. Winchester, which was owned by Antoinette's aunt Anna Sidor. Rose (Sidor) Marynowski's grandmother Marianna was born in present-day southwest Lithuania.
Frank and Rose Marynowski spent most of their life in Chicago living in the Wicker Park neighborhood. They were parishioners at St. Stanislaus Kostka. Antoinette's grandmother Josephine Marynowski lived with the family while Antoinette was young.
Bonfield Street in Bridgeport was named after Michael Bonfield, who was a founder of the neighborhood. Bridgeport had originally been an independent part of Cook County. The street is three blocks long between Hillock and 31st Street. The Bonfield family lived on the corner of Archer and Bonfield when Bridgeport was annexed to Chicago in 1863.
The Michael E. Byczek family has a long history on Bonfield Street. He has lived his entire life at 2939 S. Bonfield in a two-flat where all three generations named Michael Byczek have lived. The house is located a few doors away from where Michael's grandparents were living when his father Mick was born. Michael Bonfield owned the property when the land was subdivided before the 1871 Chicago Fire. His sons Michael and Joseph were also involved with ownership. Michael ran a business on Archer and Bonfield. Joseph was an attorney and served as Corporation Counsel for the City of Chicago.
Michael's great-grandparents Martin and Maryanna Byczek lived in multiple buildings on Bonfield and Hillock in the 1930s-1960s. His other great-grandparents Martin and Marie Flanagan lived on Archer and Bonfield in the 1940s and 1950s.
2939 S. Bonfield Street was built around 1877 when a financier investor acquired several lots of vacant land on the block for development. Since then, only three families have owned the building. Each family has been long-term owners with their adult children living in the house with them.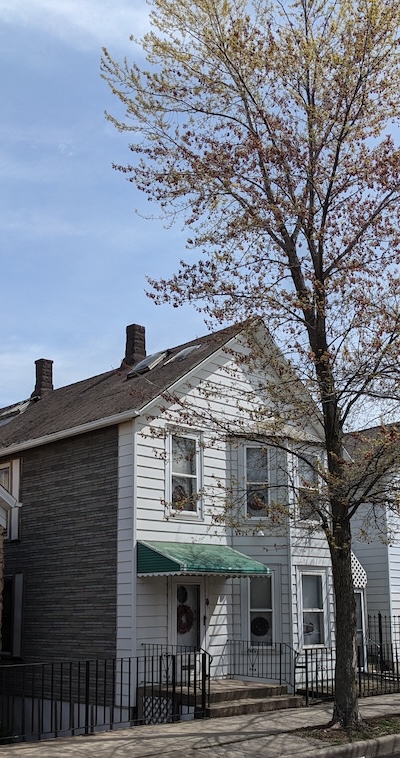 2939 S. Bonfield Street in the Bridgeport Neighborhood of Chicago
Michael E. Byczek has conducted extensive historical research of Bridgeport and real estate development in the neighborhood. This includes analysis of records from the 1850s to locate where the earliest homes were built and the original street layout when land was subdivided.
Michael has compiled an archive of genealogical records confirming his lineage to the early 1700s in Europe and his 6x-great-grandparents. This covers about 300 years of history. Michael's ethnic background is approximately 72% Polish, 25% Irish, and 3% Lithuanian.
He is currently pursuing research that may reveal a traceable lineage back to approximately the year 600 A.D., covering about 1,400 years. This could identify a pedigree going back to his 40x-great-grandparents.
A comprehensive and interactive software-based digital archive is being developed to pass down the family chronicles to his descendants.
Family Genealogy Websites
:
www.mick-byczek.com
- 19th Century Genealogy
www.mick-byczek.net
- 20th Century Genealogy
www.michael-m-byczek.net
- Family Marriage Chronology
www.michaelmbyczek.com
- Old Settler's Club of Chicago
www.mickbyczek.com
and
www.michaelmbyczek.net
- Mick Byczek Genealogy
www.bettybyczek.net
- Betty (Bykowski) Byczek Genealogy