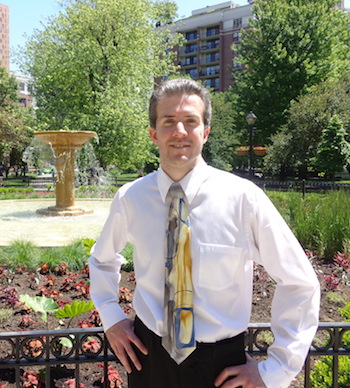 Michael E. Byczek is a lifelong Chicago resident. He is the fifth generation born and raised in the city with roots dating back to an early settler family in 1835.
Technology
Michael has been a professional software engineer since 2003 with experience in software development and hardware infrastructure. His background consists of membership with the IEEE (Institute for Electrical and Electronics Engineers) Computer Society along with a degree in computer and information science with specialized training in electrical and computer engineering. This was combined with eight I.T. certifications as a system administrator for Linux and macOS awarded by Apple, CompTIA, and the Linux Practicing Institute (LPIC). Electrical engineering skills are highlighted with an FCC license as an Amateur Radio (HAM) operator.
Skills include data analytics, commercial development using a variety of programming languages, cybersecurity, cloud-based platforms, database administration, video production, network configuration, global distribution of mobile apps, Internet-based technology, and digital marketing strategies. This includes data engineering, privacy, blockchain, domain names, social media, music, photos, video, cyber crime, identity theft, e-commerce, and software engineering best practices.
One area of focus is data science platforms that consist of analytics, data models, database management, and tools in the legal, real estate, business, and engineering industries.
Accomplishments have spanned numerous programming languages (i.e. Python, Java, Objective-C, Swift, C/C++, Perl, and Visual Basic), website administration (HTML, CSS, CGI, and JavaScript), database platforms (MySQL, PostgreSQL, Microsoft SQL Server, and MongoDB), operating systems (Linux, macOS, UNIX, Windows, iOS, and Android), business software (i.e. Microsoft Excel, Power BI, and Apple Final Cut Pro), and cloud services (i.e. Amazon AWS, Azure, and Google).
Attorney
Michael has been a licensed Illinois attorney since 2007. He combined a technical background with a law degree to assist clients with protection of their intellectual property (patents, trademarks, and copyrights).
He personally develops the software used in his legal practice. One example is data-driven analysis of all real estate throughout Chicago, Cook County, and Illinois for property tax assessments. This data has been used to assist property owners with appeal documentation filed with the Cook County Assessor, Cook County Board of Review, and Illinois Property Tax Appeal Board. Specialized databases for patent, trademark, and copyright registrations are also maintained to evaluate technological trends and to better assist clients with similar applications and research.
Michael also produced top-ranked mobile apps (iOS, Android, Windows, and macOS) for intellectual property that were consistently ranked as the top titles for those legal topics along with PDF document generator tools for users to print their own will or legal documents through a smartphone or tablet.
Managing Real Estate Broker
Michael has been a Illinois real estate broker since 2003 and is currently licensed as a broker manager.
He has combined a background in law and technology to work with clients during both residential and commercial transactions in either a broker or attorney role. This includes the development of customized websites, professional video tours, photo galleries, digital marketing material, data analysis of comparable properties for price valuation, and a technology-oriented approach to represent clients.
Education
Juris Doctor,
cum laude
The John Marshall Law School - Chicago, IL (2003-2007)
B.S. Computer and Information Science,
summa cum laude
University of Maryland - Adelphi, MD (2000 - 2002)
Real Estate Sales and Brokerage
The Chicago Association of Realtors (2003)
Electrical and Computer Engineering Department
Illinois Institute of Technology - Chicago, IL (1998 - 2000)
Engineering Department - Graduate Studies
University of Illinois - Chicago, IL (2002)